For as long as I remember, (and that's a long time) the idea of an ad was to cut through the clutter and stand out. Now they want to blend in.
Move over banner ads, the newest way to attract attention to your product or service is to be indistinguishable from the surrounding environment. It's called Native Advertising, and at its most persuasive when it's barely noticeable as an ad. (Hello, neuroscience…). We've all seen them. Sponsored posts found on social media and editorial websites such as Facebook, Twitter, Instagram, Buzzfeed, Forbes and Business Insider are all forms of Native Advertising.
For example, on Facebook one may see a status update or picture on their newsfeed from a company. Other examples gaining popularity are posts replicating the content of a Buzzfeed post. Companies are creating their own lists, aka "listicles", or how to's, and promoting them on the Buzzfeed page. But the trickiest are those found on editorial sites, like the UPS sponsored ad shown here.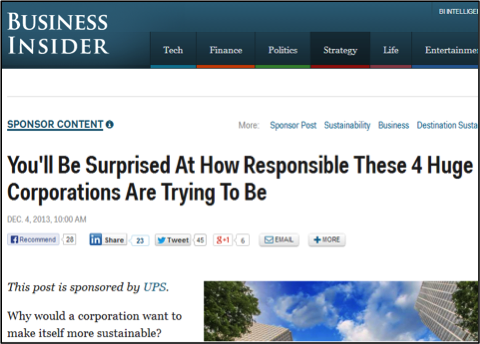 Source:  Cpcstrategy.com
Sponsored content can be easily mistaken for an article. All of these, however, state in the ad that it is a 'sponsored post' or  'promoted by', but their context mimics that of the site it's posted on.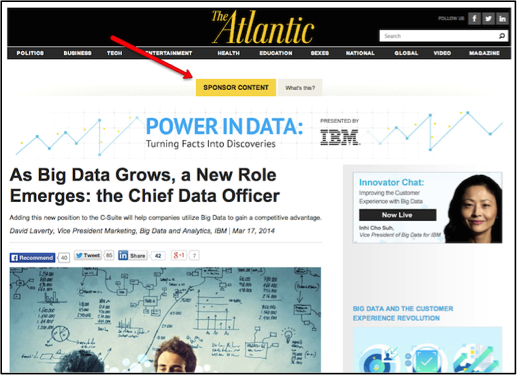 Source:  Copyblogger.com
Believe it or not, native advertising does work, and here is why: people are pulling the content they want to read and social media has become a reliable friend (replacing real reliable friends in some cases, but that's another story.) It can be argued that ads that blend into the user-selected formats (as in the case of UPS) are less intrusive and less likely a distraction users tune out. In this case, UPS would probably argue that they are provided valuable content in line with the content Business Insider users want.
Research indicates that consumers view native ads 52% more than banner ads. The same study also states that native ads, because they are served to the consumer based on the consumer's online behavior and interests, are more likely to be shared with a friend or family member. Isn't a tweet or instagram post from a familiar company on your news page a little less aggressive and a lot more interesting? Many, including me, would say no, but since so much of our decision-making is, to quote, Dan Ariely, "predictably irrational" what we think or say is not necessarily how we feel or act.